8 Things to Look for When Booking Your AirBnB
January 3, 2022
0 Comments
---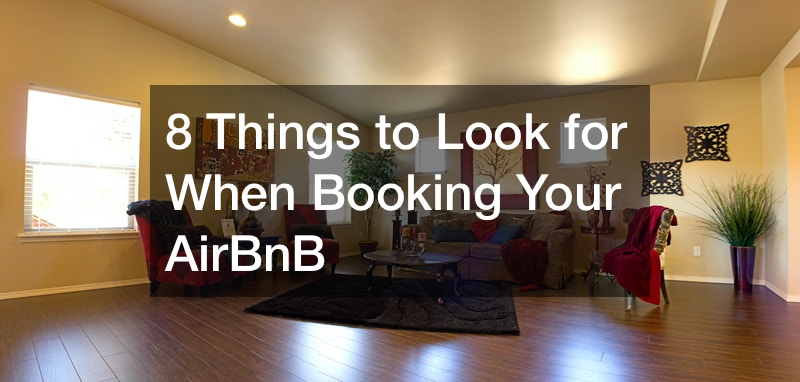 ---

If you've never booked an AirBnB before, you're in for a treat! AirBnB is perhaps one of the best resources available for travelers who want to go a bit off the beaten path, and are tired of visiting the same hotels and resorts all the time. Travelers are often able to get more space for a better value, while also enjoying practical amenities and some of the unique benefits that would not be seen in a hotel, like beautiful views and a more authentic cultural experience. It is also an excellent resource for AirBnB hosts, who are able to rent out their unused spaces and turn their guest homes or even their unused bedrooms into income opportunities.
But as with any website, there are a few things that you may want to know when using AirBnB. It's about getting the most out of the website itself, as well as the property that you book. Additionally, you need to understand when using AirBnB that although the site is an amazing resource with many wonderful properties available, not all of those properties will be the right fit for your specific needs. But with a bit of dedication and indeed some research, you can certainly find the right one for you. With that being said, let's look into what you should seek when booking an AirBnB.
1. Superhosts
One thing that you need to look for when booking an AirBnB rental is available superhosts in the areas in which you want to stay. A Superhost is different from a standard AirBnB host, and you can filter properties with Superhosts when searching on the website. Just as the website has specific AirBnB requirements for renters, it also has requirements for hosts. All hosts must meet the bare minimum of requirements, proving that they are legally able to list their property for travelers, among other things. But Superhosts go the extra mile, and must meet additional requirements. These requirements include hosting at least 100 nights' worth of reservations, or equivalents at least 10 trips. They must also have a 90% response rate or higher, as well as a 1% cancellation rate or lower and at least a 4.8 (out of 5) star rating in terms of reviews.
The reasons why you would want to target Superhosts as a traveler are myriad. Although not all Superhosts are perfect, they have generally proven themselves, over the course of evaluations from AirBnB, to be more reliable, more trustworthy, and more attentive than other hosts. This doesn't mean that there aren't good hosts that aren't Superhosts. But in particular when you're first booking trips on AirBnB, you may want to stick to Superhosts. A Superhost will be more likely to hold your hand a bit more through the process, and perhaps even offer little extras; this could be anything from a bowl fo candy on the nightstand, to a security fence around the back yard.
2. A Full List of Amenities
As mentioned before, there are AirBnB requirements for renters. Among them is a level of personal responsibility. While your host certainly need to ensure that their property is everything that you expect to be based off the listing, you as the renter also need to make sure that you understand what the listing offers. While photos are important, and you should certainly pay attention to them, photos cannot tell you everything about the property. You will learn a lot more if you read the list of amenities notated by the host in the listing. Quite often, you can actually filter your search results based on amenities, which will save you time in your search as well.
While you can feel free to ask hosts additional questions, you should always do a thorough read through of the listing first. This will save you a lot of time and potential confusion. For example, the host will likely list heating as a feature on their listing if the property offers heating. This is something that you don't necessarily need to ask about separately if it's already a part of the listing itself. In the same sense, 'flashier' amenities like pools will also be listed in the same way.
3. Understand Access
It's one thing to book a property. It's another thing entirely to understand how you will best be able to gain access to the property. Not only will this affect your ability to move in and out of your rental; it will also affect your level of security. Different levels of security will be found at different properties. If you're only comfortable with a property, for example, that has the most modern features, you may not be content with a property that is accessed through traditional keys and a lockbox. Many AirBnB hosts outfit their properties with keypads in order to make it easier for people to safely access their properties. However, some do not.
Keep in mind that if you do need to use traditional keys in order to move in and out of your rental, you'll always be responsible for returning those keys to the host at the end of your trip. The last thing you want is to lose your keys and have to reach out to local locksmith companies for a replacement. Additionally, you should remember that these responsibilities will be considered among AirBnB requirements for renters. If you are not able to leave the rental exactly as you entered it, keys included, you may receive a negative review from your host. This could in turn affect your ability to be accepted as a renter in the future.
4. Start A Dialogue
While you don't have to ask questions directly of your host (they are not among AirBnB requirements for renters) it is often encouraged for you to start a bit of a dialogue with your host before renting. Again, reading through the listing first will ensure that you waste less time with questions that are answered through the listing; but hosts can't include everything in their listings, and you can get a better idea of not only what they can offer but their personalities if you ask questions before booking.
Some hosts are not very involved with their renters at all, while others actually stay in their properties and rent out a private room, even offering their guests meals. You should be direct with the host with questions that you don't feel have been answered through their listings. Some of these questions might pertain to individual incidents. For example, what if you need a water heater repair taken care of while you're on site? How will the host respond to that, and how quickly will they respond? The great thing about AirBnB is that it gives a face and a name to the renter and the host. Take advantage of that!
5. Read Reviews
Of course, one of the best ways that you can determine what kind of experience you will have at a specific rental, is simply by looking at reviews. While AirBnB hosts can respond to reviews if they disagree with what was said, most reviewers on AirBnB are honest about their experiences. The star rating allows them to give a quick response; but if a person took the time to write a longer review, you can be reasonably assured that the rental made an impression on them. Ideally, this impression will be good, but you also need to read negative reviews when they exist. Though you should keep in mind that if something about a review seems inauthentic, you can always ask a host about it directly.
Look for reviews that discuss the issues that are most important to you. For example, if you're especially concerned about air conditioning in a hot space, look for reviews mentioning how often an HVAC service occurs on the property, or if any other guests have had general issues with air conditioning. While giving a review isn't among the AirBnB requirements for renters, travelers are heavily encouraged to give reviews. Therefore, most properties that have been available for at least a year have a good number of reviews, as long as they have been taking in a similar amount of travelers. With that being said, if a property doesn't have a lot of reviews, that's not necessarily a bad thing. Some properties are simply newer, or the hosts may not be as educated about how to perofmr outreach for reviews.
6. Check Service and Cleaning Fees
All AirBnB properties will come with basic service fees, as AirBnB collects a service fee for facilitating the booking. But there are sometimes other fees that come with the properties that you wouldn't necessarily notice unless you look into the listing itself. These may include cleaning fees, which are often charged by hosts to cover the costs of cleaning the rental after the traveler's departure. Cleaning fees have become even more common in the wake of the COVID-19 pandemic, especially since AirBnB began requiring more from their hosts on this level. Cleaning fees are not a bad thing at all; but you do need to know what you are getting into as a traveler before you make that first deposit on a property. Again, it is expected in basic AirBnB requirements for renters that the renters themselves will read the listing and educate themselves on this level.
However, some areas also come with additional fees inherent to their locations. For example, some rentals on Hawaii may require a Transient Occupancy Tax, which will typically vary depending on where the rental itself is. You may also need to pay for a garbage disposal service, especially if you're staying in an AirBnB rental for a significant amount fo time. If you're renting in an area that is more prone to damage related to severe weather issues, you may also want to look into whether or not renters' insurance would be necessary. The last thing you want is to deal with a water damage claim after you've left a property.
7. Consider Location Carefully
Keep in mind that a better location will often equal a higher cost. You can filter through AirBnB search results based on the cost of a property; however, if you want a cheaper property, you may end up staying in the suburbs. Additionally, you should remember that a higher cost doesn't necessarily equal more space orb better amenities. It may simply equal a better, more convenient location.
While you can ask your hosts about nearby conveniences, you may also want to simply do some research yourself. Some hosts' ideas of a convenient, accessible area is simply close proximity to grocery stores and locations like waxing centers. Others may place more emphasis on proximity to restaurants and exciting attractions like theme parks.
8. Book Far in Advance
You need to make sure that you book far in advance. Why? Because the further out in advance you book a property, the easier it will be for you to find a property that meets all of your needs. When it comes to AirBnB requirements for renters, perhaps the most important unsaid rule is being proactive. Not only will this allow you to find a great property and get the dates that you want; it will also often give you more flexibility.
While some AirBnB hosts do have non-cancellable cancellation policies (and you must keep this in mind when choosing a property) most of them allow some degree of flexibility. You'll be more likely to have the ability to alter your dates or cancel with a full refund if you book further in advance, rather than waiting until the last minute.
If you're trying to find a great AirBnB rental, you should consider all of the practicalities; you don't want to worry about bad roofing, or a lack of window coverings. But at the same time, remember: you're about to take a trip! Do your research, and get ready to enjoy it.