What You Need to Know to Run a Successful Airbnb Now
15 October, 2022
0 Comments
---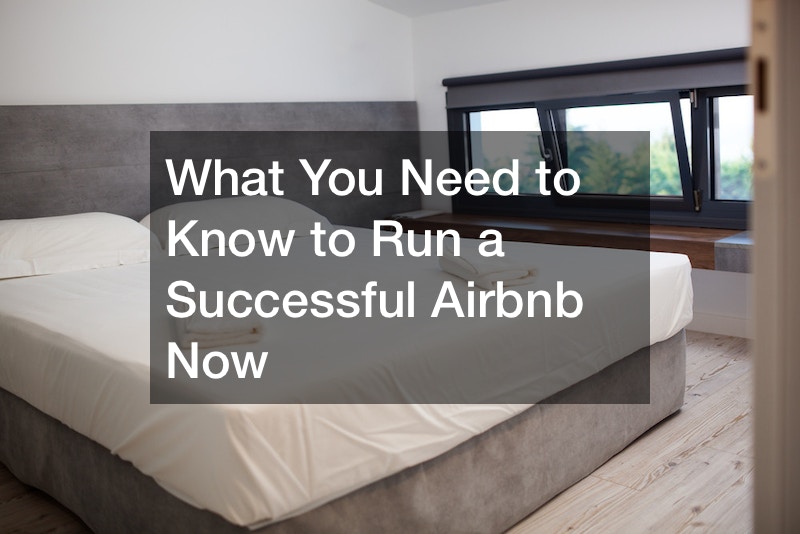 ---

If you have some extra livable space, you might want to host on Airbnb and earn some side income. If you have already started hosting, you might have realized that some hosts seem to be succeeding on Airbnb while others struggle. This in-depth guide will teach you how to run a successful Airbnb now.
According to Statista, Airbnb was valued at $113 billion in 2021. In the same year, there were 300.6 million bookings on Airbnb. Despite the impact of COVID-19, Airbnb continued making revenue shared with successful hosts. Like other disruptive technologies such as Uber, some people have become quite successful on Airbnb, while others keep wondering what they are doing wrong. To run a successful Airbnb now, you need to learn some basics, tips, and strategies to put you on top. If you practice what you learn in this article, you will likely become successful on Airbnb.
Why Airbnb?
Airbnb doesn't own the properties it rents but offers potential hosts a platform to interact and sell value to buyers. Like with other disruptive technologies, you may wonder if Airbnb is worth it. Should you list your property on Airbnb? According to a Clever study of 1000 homeowners, 82% believed listing their home on Airbnb is a good strategy to make income. So why should you consider hosting on Airbnb?
You can rent out your home for a few days without selling it.
Airbnb currently operates on a free market. You can set your prices without regulation.
Non-linear open platform. Airbnb allows every kind of host with livable space to rent out their space. You will find a room for $50 a night and another for $1000 a night.
Unique and diverse platform. No limitations on who can list as far as yours are livable spaces. You can rent out your mansion, bungalow, apartment, and camps.
Basic Requirements for Hosting on Airbnb
If you want to host on Airbnb, you should meet the following basic requirements:
Have a livable space with essentials a guest would need, such as a bed (or mattress for camping), shower and bathroom, kitchenette.
Essential supplies such as toiletries and towels
Responsive communication with potential guests
Consistent level of quality
Allow guests to book the property when it is available.
Do not cancel booked dates unless it is an absolute emergency to prevent inconveniencing guests.
Most Airbnb properties are houses, apartments, and homes. However, you can rent out space and provide tents. If your house leaks or needs some roofing work, use roofing services to make your Airbnb livable.
10 Things You Need to Know to Run a Successful Airbnb Now
You can get some income and response by meeting the above basic requirements. But you are not basic. You want success. To run a successful Airbnb now, here are ten things you need to know.
1. Make a Lasting First Impression With Proper Photography
Judge the book by its cover is the guiding mantra in the property market, including Airbnb. Even when people list a home for sale, good photos matter. According to a Redfin study, using a Digital SLR camera increased sales by 3% compared with homes photographed using phone cameras. In short, shots matter.
Invest in professional photos if you want guests to get a good first impression of your property. While you may pay a higher amount for hiring a professional, you will always own the photos and can use them to list your property on other property platforms.
You should not use good photography to trick potential buyers. Call deck contractors if your deck is cracking, warping, and wobbly. If the paint is chipping, repaint it. Let guests leave reviews such as, "the photos don't do justice to this property; it was above and beyond the photos." or "The place matches the photos."
2. Identify and Respond to Your Target Audience
One of the mistakes some Airbnb hosts make is trying to host everyone; backpackers, families, couples, and business travelers. While your property may be suitable for a diverse target market, it is also highly likely that it is more suitable for a specific market.
To run a successful Airbnb now, it is advisable to research and learn about your target market. For example, if you have a quiet cottage in the woods suitable for two, customize it as a suitable getaway for love birds. Engage tree services to landscape your trees and remove tree stumps that may pose a health risk to love birds. Have some balcony seats for a romantic breakfast.
3. Price Reasonably but Don't Underprice
Your instinct when pricing your Airbnb might be researching local prices, then underpricing. If your target audience is people looking for the lowest price, you might have some success with underpricing. Some guests may use a pricing filter, and thus you might be the number one spot because of low prices.
You need to know that price is a marketing strategy to run a successful Airbnb now. Low prices often indicate poor quality and basic amenities. Airbnb facilities are already relatively cheaper than hotels. Priced reasonably to ensure you meet your expenses and make some profit.
4. Use Accurate but Informative Property Descriptions
Do a small experiment. Think of your favorite holiday destination. Go to Airbnb and try looking for a property that would suit your needs if you were to travel today. The property description is key to convincing potential guests.
Don't overpromise, over-describe, or worse, lie. Don't describe your property as having a heated Jacuzzi when the Jacuzzi is not heating. On the other hand, be specific in highlighting features guests would love. Mention you have some outdoor space guests would enjoy. Mention superb local eateries and touristy places.
5. Brand to Stand Out
One of the most amazing aspects of Airbnb is the capacity to imbibe your personality in your property. Conversations with potential guests don't have to be formal and corporate-like. Yet, you can pick some aspects that work in the corporate world, such as branding.
You can run a successful Airbnb now that can outlast and go beyond Airbnb by branding. Begin by having a name for your property, such as Allies' condo, the Potflower, or any other creative name. Create specific social media pages for Airbnb. You can even have signage outside your property.
6. You Might Need to Make a Mini Home Improvement
You might want to rent out a home you have lived in for a long time. Since you are the owner, you might have gotten used to inconveniences or things that do not work, such as a leaky faucet. Yet to run a successful Airbnb now, you might consider adding some value.
Consider seat upholstery if your seats are drooping. Call foundation repair services if you have noticed signs of foundation issues, such as cracks in the floor or cracked walls. Similarly, a roofing service can help with roof issues. You do not need to make a full home improvement, but some basic maintenance might be the factor that catapults you to success as an Airbnb host.
7. Research Local Laws
Of course, you can't run a successful Airbnb now if you do not follow local property management laws. Laws governing Airbnbs differ by geographical location. For example, some cities require one to pay occupancy tax. In other cities, guests must stay at least 30 days at once. In most cases, property owners are obligated by law to take care of the property, for example, by doing maintenance, pest control, and filing taxes. Ensure you meet basic local laws to avoid run-ins with the authorities.
8. Outsource to Increase Efficiency
You will probably rent your apartment, home, or outdoor space. So it might feel a bit alien to have other people manage your property. Yet it is advisable to outsource as far as possible. Even though it is your space, treat running an Airbnb as a business.
Outsource a photographer instead of taking photos with your smartphone. Outsource maintenance and cleaning services. While you may be worried that this will eat into your earnings, the return on investment will be worth it. Outsourcing helps you focus on one or two elements of managing an Airbnb, such as communication.
9. Be Ready to Dedicate Time
Some people describe running an Airbnb as a passive income source. But people who run a successful Airbnb now know that managing an Airbnb requires commitment. Potential clients have so many options to choose from; if you are unresponsive to communication requests, they will easily move on to the next host.
If you find managing an Airbnb exhausting, hire someone to help you with the most urgent tasks. You could hire a virtual assistant to provide real-time responses to guests. Invest in task management software to keep you on your toes on tasks that need urgent responses.
10. Deliver More Than Your Property Description
Ever gone to a hotel and thought you got everything you paid for; then you got a surprise complimentary wine bottle? Everyone likes it when others go the extra mile. You can run a successful Airbnb now by minding the little details. Offer some wooden souvenirs for your guests. Offer a welcome drink. Decorate the room for honeymoon birds. If your property is off-grid and without air conditioning, consider air conditioning installation to make the space comfy. Be extra.
Golden Tip to Running a Successful Airbnb: Become an Airbnb Superhost
So, you applied the above tips. You are on track to running a successful Airbnb. One of the fastest ways to run a successful Airbnb is becoming an Airbnb Superhost because of the added benefits and privileges. As a Superhost, you will get a badge that tells visitors that you have proven to be a trustworthy host.
How Will Becoming a Superhost Increase My Success Rate?
When you become an Airbnb Superhost, you will reap the following benefits:
Hike in Bookings: If you want to run a successful Airbnb now, you must have high occupancy rates from a high booking volume. A Superhost badge will help you stand out.
Increased Income: Increased visibility, trust, and good reviews will mean higher occupancy and, consequently, higher income. Superhosts are the cream of hosting and get all the benefits of being on Airbnb.
Superhost Filter: Guests can easily find your property using the Superhost filter. Guests are looking for trustworthy hosts, and Superhosts' badge is closer to home.
What Do Airbnb Superhosts do differently?
You can become a successful Airbnb Superhost by doing the following:
Keep Your Space Clean and Comfy: Invest in a cleaning service provider if you may, but always have the room and amenities clean. A tree service can help get rid of hazardous tree stumps, to ensure your interior is safe and appealing.
Ensure Rapid Response
Respond to Reviews and Leave Guest Reviews: Thank guests for finding and posting reviews for guests. If you bump into a not-so-pleasant review, respond politely and kindly.
Be Accurate in Descriptions: Don't use overly flowery, exaggerated, and salesy language. Be to the point and truthful. Don't say there is paving where the path is unpaved.
Deal with Complaints ASAP: Don't make excuses when a guest complains. Respond immediately and give a small financial gesture if possible. If the guest complains the water pressure was too low, get pipe inspection services. Apologize.
Final Thoughts
Now, you are adequately equipped to become a successful Airbnb host and a Superhost. You can run a successful Airbnb now with efficient communication, accurate descriptions, and superb photography. You may also want to do some mini-improvements to your home or apartment to make it appealing to guests.
Complete novices have started and managed Airbnb properties successfully. If you have not started hosting, what is keeping you from hosting? Where and when would you host if money and time were not a hindrance?