Revenge of the Vacation: 4 Fun Things to Do
7 January, 2020
0 Comments
---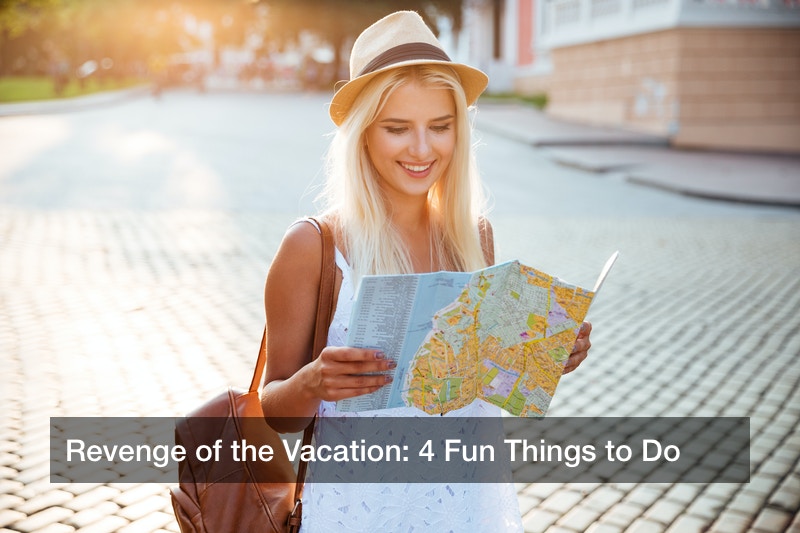 ---

There are many different ways to deal with and heal from a divorce. Going through a separation is a challenging time for the entire family. Your emotions will hit highs and lows. The practicality of separating assets and other belongings gets messy. Things like establishing child custody rights can be hard between the parents, but even harder on the children. Child custody determines the schedule the children will have with each parent, but once all is settled from the divorce, one of the best ways to de-stress is to get away and go on a vacation.
In 2017, 1,036 billion dollars was spent on traveling so there are plenty of options and ways for you and your kids to take a week and see another part of the world. Sometimes the best way of dealing with a situation is taking a break from it and placing yourself in new surroundings. Maybe you want to rough it out by camping in the woods? If that's not your style, perhaps a cute little bed and breakfast boutique on the outskirts of a downtown city? Maybe relax near some waves or take on various tours? Whatever you decide, here are some things you might consider when planning a vacation to boost morale after a divorce.
Stay at a Bed and Breakfast
If camping or, even glamping–glorified camping, is not for you, a bed and breakfast might be the perfect fit. Though they sometimes cost more than an average hotel room, the overall experience and amenities they offer make up the difference. Modern hotels are typically commercialized, sterile-feeling stays, but a bed and breakfast will pride itself on individuality.
A bed and breakfast is usually much smaller than a hotel and is more locally situated in a city. Many are large houses in a neighborhood and you can only tell the difference because they have a small sign identifying who they are. They keep the same look and feel like their surroundings and some even have gardens and flowers you can enjoy during your stay. This provides a unique experience and a chance to get an authentic feel of a town.
Breakfast is part of the deal and a bed and breakfast usually offers a personal constructed gourmet meal so you won't have to worry about how or where you are going to feed your kids first thing in the morning. The breakfast is often served in the room or it might be in a quaint dining room within the bed and breakfast. If you have more than one kid, this makes it convenient dining.
Another benefit to a bed and breakfast is its small size. Their capacity for rooms is significantly less than a hotel which comes with its own set of advantages. Fewer rooms means fewer people and less foot traffic. It makes for a quieter stay and an opportunity to meet the host, as well as the other guests more personally if they are around when you are. The service at the bed and breakfast will be more personalized because the host isn't trying to cater to a hundred rooms. Personal belongings are also safer in a bed and breakfast because there are fewer people moving about.
With personalized service, you and your kids will get more attention. You will have time to ask the host questions about the town and they will likely have recommendations for things to do and restaurants to visit. Since the host attends to fewer people, their amenities may include things such as locally grown organic foods, bathrobes, fast internet, or free cookies and coffee which can make the experience even more fun for you and the kids. You'll finally get the attention you deserve.
Set Up Transportation Entertainment
One of the most complicated and lengthy parts of traveling is transportation. Will you be driving in the car? Will you need to fly? Have you decided to take a train if the kids have never been on one? If you are traveling a great distance, there will be much time spent in a confined space so be prepared to entertain the kids and make it a fun experience before the real vacation festivities begin.
More than likely, time is going to be spent in a car. If this is the sole form of travel, make it fun and have the kids help you document the trip. This could mean stopping to take selfies along the way at every stop, collecting fun brochures, or even picking up small items outside or at gift shops. All of the collected items can be compiled into a scrapbook later as a way to remember the trip. It will help keep the kids' minds occupied because they will always be looking for things they could contribute to the book. It's the perfect way to kick off life after a divorce.
Another way to entertain the kids is to bring back the classic old car games. This will keep you all interacting with one another and having fun. Remember the license plate game? Have the kids see how many different states they can find along the highway and at many stops you make. Spice the game up a bit and call out numbers or letters they should look for and then they can compete to see who finds the called out figures first.
Another possibility is to create a scavenger hunt. If you have an idea about the route you are taking, make a list of potential things to be seen. This could be anything from construction road signs to specific flying birds. A different, but similar game to this one is the Landmark Game. This one picks out certain features of the landscape and you decide an action the kids have to do when it is spotted. This could be things like holding your breath as long as you can when passing a graveyard. Maybe you decide they should hum a song the length of a tunnel. It can be anything that will help pass the time.
If those car games get too boring, bring in the technology. Audiobooks and podcasts are an educational and great way to pass the time. Download a variety of genres that will interest all of your kids or expose them to something new. You can listen to short audio recordings and then talk about them with the kids. Another option, of course, is movies or documentaries, but keep in mind the vacation is meant to bring you all closer together so be careful how much technology you want to incorporate.
Visit a Medical Spa
Even if you decide to stay at a bed and breakfast, which will allow for a more relaxing and quieter experience, consider treating you and the kids to a spa day. Take them to get their hair and nails done. Looking your best has a way of helping you feel your best. Afterward, take spa day to the next level and treat them to a medical spa. The emotional drain of a divorce can negatively affect everyone's health. The whole point of this vacation is to begin healing so set everyone up for maximum success.
Rejeuvine Med Spa reports that the frequency of med spa use is connected to better physical and mental health. The more you spa, the better you feel. A med spa is a clinical setting, but an environment set up for relaxation. It slightly differs from a regular day spa. Medical spas offer a wider array of procedures, the latest technology, and more in-depth therapy techniques if they are required. Some of these therapies include Botox, laser hair removal, a variety of massage techniques, chemical peels, facials, and even permanent make-up applications.
While many of the procedures may not yet be suitable for the kids, treat them to a simple massage. It will help them and yourself relax. While they do that, you can choose any of the other treatments available. One positive outcome of a divorce is the chance for you to refocus on yourself. A med spa is the perfect way to begin that journey. They customize the experience for what your body needs and focus on whole-body wellness.
Head to the Beach
If total relaxation is the ultimate goal for this vacation, head to the beach for some quality summer fun. Like a med spa, the beach has its own effect on whole-body wellness. It mentally relaxes the mind, but can also be a great way to exercise as well.
Beaches are associated with relieving daily stresses. The waves of the ocean constantly lap at the shore which creates a soothing sound. The sun shines freely and warms your skin. These two combined creates the perfect setting to lay back on a beach chair in the sand and read a good book, or fall asleep. You can let the anxiety melt away while the kids play in the large sandbox.
The sun itself offers its own advantages. Everyone needs Vitamin D and there is no better way to ensure you are getting enough than by laying on the beach. The sunshine vitamin regulates calcium and phosphorous, which helps regulate immune functions. If stress has overtaken your body in the divorce, it can compromise the immune system so going to the beach works two-fold. It relaxes you, but also allows you the chance to soak in Vitamin D to better benefit your health. Vitamin D is also thought to help reduce depression so the more time you spend on the beach, the happier your mood will be.
Along with mental benefits, there are fitness benefits. Of course, you can just go swimming, but there is a multitude of opportunities you can do with the sand. Sand is a soft footing which absorbs some of the concussion when you walk or run. This means that some of the energy used to lift each foot is absorbed so it takes more effort to move forward. You have to push each step back out of the sand. In addition to this, the core is engaged to help stabilize yourself. Sand is uneven, so the core works overtime to help you keep your balance. If you want to increase the difficulty, you can add in some resistance training. Walk in the ocean. The higher the water level, the more work it will take to move each step. You can also change the difficulty by walking with or against the waves.
Make the Most of Your Vacation After Divorce
While divorce is a challenging time, once the hard parts are settled, beat the emotions with a relaxing vacation. Decide where you want to go and how you want to make the most of the vacation. Staying at a bed and breakfast will allow you a more authentic and unique way to experience the town culture. They offer a quaint experience in a smaller setting that is more secure with personalized services.
If you are traveling to a far part of the country, or even out of the country, be prepared to occupy and entertain your children. The vacation starts with the car ride. You can bring back the old fashioned road trip games, make use of modern technology, or just invent your own ways to entertain the kids. Also, think about documenting this trip as a way to remember the first part of this new life chapter.
Since the goal of the vacation is to de-stress, consider visiting a medical spa that will treat the kids, but also help you design a health plan that will benefit you long term. Enhance the effects of the med spa by incorporating some beach time into your vacation. The beach provides a soothing atmosphere that relaxes the mind. Soaking in the sun is beneficial for immune and mental health. You'll also be able to start ramping up your fitness routine by making use of the sand. So don't let divorce get you or your kids down. Take control of your life and kick start the next chapter with a fun vacation.